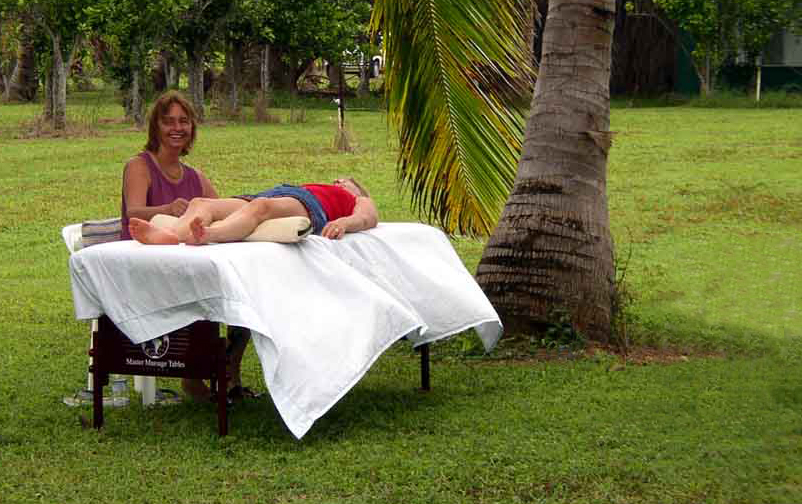 In addition to our ongoing programs in California, our next traveling class is:
October 11-15, 2017:  Special 5-day class in  Cleveland, Ohio 
Biodynamic Skills for Working with Difficult Upper Body Challenges:
Frozen Shoulder, Chronic Neck Pain and Traumatic Brain Injury
At: The Ursuline Educational Center (the former Sophia Center)
2600 Lander Road
Pepper Pike, OH
From 10:00 am to 6:00 pm daily
The neck is a cross road of the main vital currents, downward and upward.
Dr. Randolph Stone

If you're going through hell, keep on going!
Winston Churchill

Caring and compassionate touch elevates oxytocin levels in the brain, helping TBI people come out of isolation and into connection with others again.
Gary Peterson
About the Workshop
People often experience unrelenting pain and suffering in their upper bodies, above the respiratory diaphragm.  This workshop will highlight Biodynamic skills for working with 3 conditions that show up a lot in my practice: frozen shoulder, chronic neck pain, and traumatic brain injury (TBI).
Trauma to the shoulders, neck and head not only results in often-unrelenting pain, but produces symptoms and fixations that can be resistant to effective healing processes.
In this workshop we'll explore BCST skills and approaches for working with these 3 conditions, while blending in complementary skills from  Polarity Therapy and other energy therapies. Some of the areas we'll explore include:
• Pelvic and diaphragm releases to open upper body restrictions
• CO-EX (Condensed Experience) matrices prevalent with these conditions
• Restorative yoga for the upper body
• BCST and other energy skills specific to frozen shoulder
• BCST and other energy skills specific to chronic neck pain
• BCST and other energy skills specific to traumatic brain injury
• Dr. Stone's specific techniques for upper body conditions
• Other eclectic energy skills and practices from my 35 years of practice
About the Presenter
Gary Peterson is the founder of the STAR Institute and teaches the STAR Institute's Biodynamic Craniosacral Therapy foundation trainings around the U.S. Gary is a Registered Craniosacral Therapist (RCST ®) and approved teacher with the (BCTA/NA) Biodynamic Craniosacral Therapy Association of North America.
He has been teaching and practicing energetic therapies for over 30 years, and also teaches trainings in his own therapeutic modality (called Settling®). He teaches a variety of shorter workshops and classes in Settling®, Biodynamic Skills, birth imprinting and other therapeutic work with the nervous system.
Gary studied Biodynamic Craniosacral Therapy with Franklyn Sills, a longtime teacher and practitioner of the "Breath of Life" model advanced by Dr. William Sutherland. Franklyn Sills is the author of The Polarity Process, Being and Becoming, and Foundations in Craniosacral Biodynamics, Volumes 1 & 2.
Gary also studied Prenatal and Birth Therapy with Dr. Ray Castellino and works with babies, children and adults in private practice. His clinical practice is inspired by his increasing desire to understand and work with the deep causes of suffering found in shock and trauma to the nervous system. To help people relieve the effects of stress and trauma, Gary founded a school and clinic with centers in California and Colorado: The Settling Touch and Resource (STAR) Institute.
Gary's first book, due in print soon, is titled Settling: Simple Ways to Calm Your Nervous System.This self-help manual gives everyone a unique set of skills and understanding for regulating their nervous system in order to find balance and relaxation. Gary and his wife Bonnie have three grown children and live in Sebastopol, California.
Questions?
Contact Gary Peterson at
Registration
Register here using your credit card or PayPal account via Paypal's secure website. (Payments will appear on your statement as paid to Wellness Professionals.)
Early Early Bird (1st 20 people to register before May 31)
Early Bird   (By July 15)
Late Bird   (After July 15)
Share STAR Institute on your favorite Social Networks: